Grapevine, Texas  January 25, 2017
Nationally Acclaimed Vocalist to Perform Valentine Tribute to Frank Sinatra
 On Saturday, February 11, Grapevine's Historic Palace Theatre, 300 S. Main St., welcomes Dave Halston for "The Love Songs – A Valentine Tribute to Sinatra." Halston, a nationally renowned tribute artist, will be giving a one time performance that takes show-goers on a romantic and nostalgic journey through many of the most celebrated love songs of the Great American Songbook.
Halston's stunning tribute to the iconic Sinatra is a fresh interpretation of the beloved music that fans know so well by the Chairman of the Board. Show-goers and their significant others can look forward to experiencing Halston's smooth ribbon of sound and legendary stage presence. This romantic tribute to Ol' Blue Eyes is the perfect way to celebrate Valentine's Day with your special someone.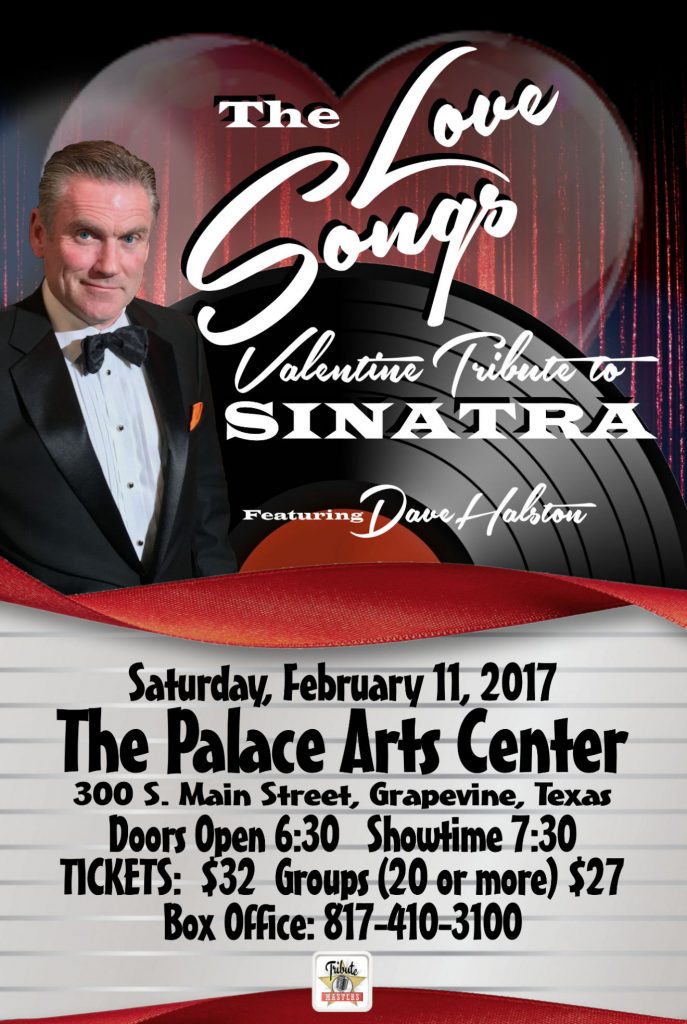 Halston comes to the Historic Palace Theatre with an impressive pedigree. Past noteworthy performances include working an array of special events, weddings, theatres and casinos coast to coast leaving audiences thrilled and stunned. Halston has even performed for Barbara Sinatra, who was brought to tears and touched by his rendition of the song My Way.
Not only has Halston delivered a command performance for Mrs. Sinatra, he has also entertained Jeanne Martin (Mrs. Dean Martin), recording artist Michael Feinstein and Mr. Las Vegas himself, Wayne Newton, among other notables.
Seating is reserved, and tickets are $27-34, plus a $2 service charge. Group rates are available. Doors open at 6:30 p.m. and the show begins at 7:30 p.m. Concessions will be available throughout the evening. For more information or to purchase tickets, call 817-410-3100 or visit www.Palace-Theatre.com.